Nadeem Ahmed is the Head of Business Architecture & Benefits for the Salford Royal NHS Delivery Team and leads on the realisation of the benefits that the Local Health and Care Record (LHCR) programme will bring to Greater Manchester.
In this post, Nadeem details some of the work we've conducted with patients and carers to help inform the people-focused development of the programme.
Greater Manchester's (GM's) councils, NHS organisations and other public bodies are working together to invest in new technologies and to join up data from the many systems across the public sector. This will allow us to use data more effectively to enhance care, improve services and indeed, save lives.
However, whilst this investment in technology is great news, we must not lose sight of the fact that on the front-line – on wards, in GP surgeries, in ambulances, in clinics, on visits to our citizen's homes and in care homes – information sharing, or lack of, is currently impacting on the quality of care we're able to give.
We're not just developing shiny new tech – we're "doing digital differently" starting with citizens – who need our services to be better – and with our health and care professionals – to provide them with better information to make more informed decisions on the care they give.
With GM's Local Health and Care Record (LHCR) programme first focussing on Dementia and Frailty, we've spent a lot of time with people with dementia, those experiencing clinical frailty, and their carers. We're using this to understand their perspectives on the current gaps in care and where information should be more joined up. Liz and Mike for example, have been helpful in detailing their experiences to us and what they would want, and need, to see improved.
At Salford Dementia Champions Group, a fantastic, energetic forum made of up of frontline health and care workers, clinicians, third sector organisations, as well as carers and most importantly, people living with Dementia – we heard many of the issues people experience day to day – and many of these link to the lack of joined up services and sharing of information between them.
One carer's experience particularly stands out. Fit and well, full of life, and in her 80's – she had cared for her husband with Dementia for the last 20 years. He sadly passed away 6 months previously and the experience she had during this time was, I'm sure, not unique. The single biggest issue she had was purely the frustration she had felt in having to repeat her husband's story over and over (and over) again. She could not understand why the many different services they had to deal with, didn't coordinate their care and didn't know what each other was doing in relation to her husband. And she's right. Why should the database of information on the health and care needs of her husband be held in her head and the responsibility for this lying with her and not the services they're accessing? And this is what the technology that GM is developing could help to address.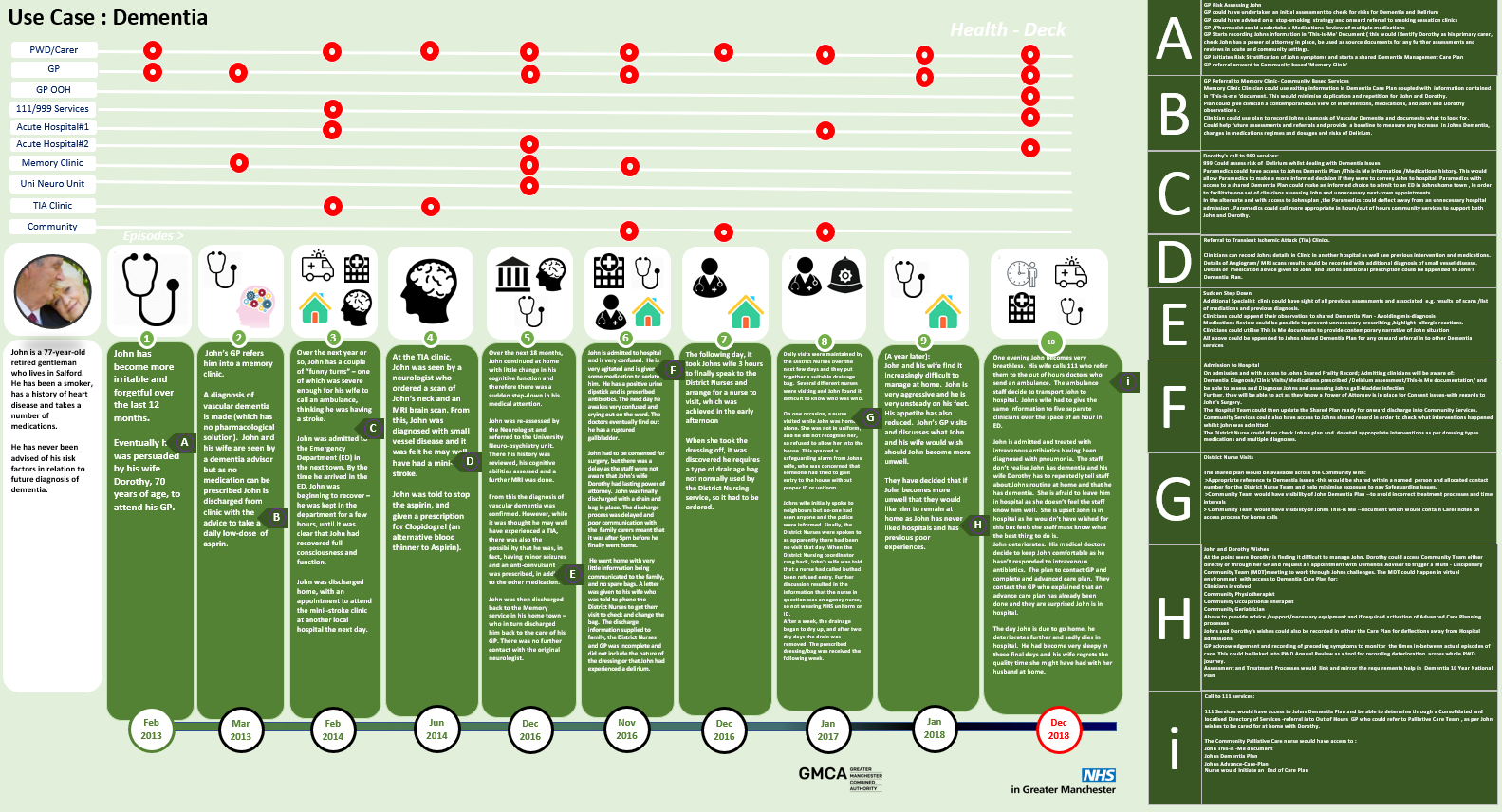 The result of our work with citizens and our clinical leads has been to produce a detailed typical dementia and frailty patient journey from diagnosis, through to end of life. Along this journey we've identified the current gaps in care that improved information sharing could help to address, and this is what the technology will support us with.
Specifically, the technology will allow us to share:
admission and discharge notifications across health and care services
diagnostic results and confirmed diagnosis for Dementia and Frailty with appropriate stakeholders
out of hours records with appropriate stakeholders when dementia or frail patients visit these services
Advanced Care Plans with appropriate stakeholders during a patient's end of life dementia or frailty care pathway.
It will also allow us the ability to risk stratify people with dementia and frail patients known to either health or social care services and that this information is shared with the appropriate stakeholders.
All this work with patients ultimately ensures GM's LHCR programme will help to fill the current gaps in care. We believe it will deliver a step-change in the experience that patient and carers have – enabled by technology with improved sharing of information across health and care.